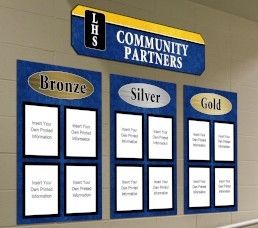 Recognize special partners of your school!
These display boards can be customized to provide a unique solution for partner recognition at your school. These can be a great way for PTA's to recognize business partners and those who contribute to the school community.
These can be purchased as an entire package, or select from individual items to complete your unique solution.
---
Community Partner Recognition Package
Community Partners Display Set

Display your school partners in a bold way with this package. There are slots for 12 partners to be displayed with logos, company information, company marketing flyers, etc. The slots are separated into three categories to differentiate donors. Each category board includes a raised title oval to distinguish the display further. This one time investment will last years and could help your school generate revenue.
Item: CP-Set
Size: 77"w x 52"h
Price: $900.00 for the package
YOU CHOOSE COLORS & TEXT
---
Community Partner Boards - Individual Items
Community Partner Header

ITEM: CP-Header
SIZE: 47" x 12" - Price: $170.00
YOU CHOOSE (2) COLORS, INITIALS
Community Partner: Bronze

Item: CP-Bronze
Size: 23-1/2" x 36"
Price: $265.00
YOU CHOOSE (1) COLOR
Includes (4) EZ-Displays and oval piece as second layer

Community Partner: Silver

Item: CP-Silver
Size: 23-1/2" x 36"
Price: $265.00
YOU CHOOSE (1) COLOR
Includes (4) EZ-Displays and oval piece as second layer.

Community Partner: Gold

Item: CP-Gold
Size: 23-1/2" x 36"
Price: $265.00
YOU CHOOSE (1) COLOR
Includes (4) EZ-Displays and oval piece as second layer
---