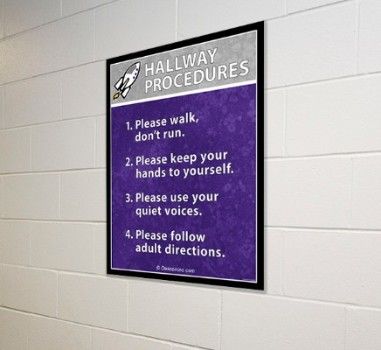 Procedure Boards are a professional-looking way to raise expectations in your school. 
These heavy-duty signs are large and colorful for maximum viewing by students. We offer three types of Procedure Boards for different uses in your school. Descon also offers the ability to customize these signs with your existing area procedures.
The "Color Band" option (displayed on the Restroom Procedures below) is a free option designed with elementary students in mind. Custom sizing available.
Size: 22"w x 28"h     Item: PB-(word)-V     Price: $165.00 each (as shown)
Size: 22"w x 28"h     Item: CUPB + PB-Layout     Price: +$35 one-time fee/procedure
-- YOU CHOOSE BACKGROUND AND ACCENT COLORS AND MASCOT --
---
-Cafeteria

-Hallway

-Restroom
---
Potential uses
Color Band Vision & Mission

Acronym Mascot Horizontal
---