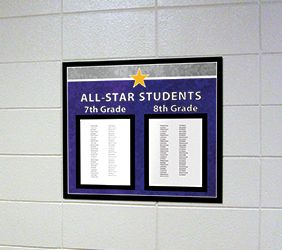 Everybody appreciates being recognized for their performance. Are your students motivated to achieve by the recognition you provide? Descon school Recognition Displays are a great way to show student success.
We offer signs to recognize Honor Roll students, display school data, student of the month, staff photos, and more. Scroll down to see some product examples and explore further.  
All of our Recognition Displays come with our EZ Display magnetic seal frame which is more durable than hard plastic sleeves, and extremely easy for changing information. Plus, all of these school Recognition Displays are customized to your school text, colors, and mascot!
---