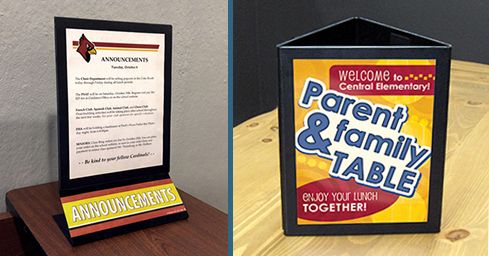 Want to get visitors' attention when they sign in? 
Try our Table Top Displays.  
These high-quality stands raise your document into visitors' sightline so your information is noticed as they approach your counter or table.    
Descon Table Top Displays are made of strong plastic -- lighter than metal and more durable than clear plastic. Our highly-functional holders can be knocked to the floor and won't shatter! You can include your unique text, colors, and mascot.
---

EZ-Counter Top Display

Easily and prominently display your 8.5x11 announcement on any countertop. Plus you customize the graphic label on the bottom of the display. You can even add a logo!

This stand is made of heavy-duty material to withstand accidental drops and has been tested for drops from high levels onto concrete floors. This display contains 1 EZ-Display magnetic seal frame to hold your printed paper.

Size: 10"w x 15"h
Item: MB2-CT
Price: $115
YOU CHOOSE COLORS, TEXT, & LOGO

EZ-3 Display

Vertically display your 8.5x11 announcements so they can be seen anywhere at the table.

This extremely durable stand has 3 EZ-Display magnetic seal frames to hold your printed paper.

Size: 13"h x 10"w x 10"d
Item: EZ3-Display
Price: $145
---