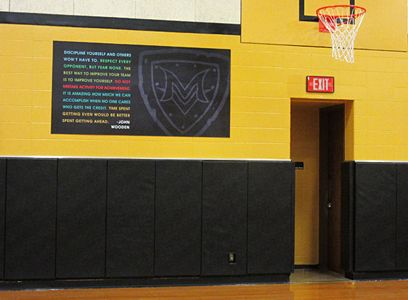 Inspire your student-athletes to excel!
Descon's goal is to provide inspiration throughout your space. In our years of experience we have created many Inspirational Signs, most of which have been customized for the specific needs of the school or team. If you have a team phrase or quote that you want to grab attention, we can make it for you as a large format sign.
Below are some of our standard quotes that have been used in many facilities. While the text on these is set, the colors of these items can be customized to fit your needs.   
For your custom or unique sayings, please Contact Us to begin creating a solution for you. Descon Inspirational Signs can help you bring more life to your facility.
---
Locker Room Inspirational Quote
John Wooden Quote

Size: 36"w x 42"h
Item: (AINSP-JW)
Price: $275.00

Attitude Teamwork Effort

Size: 36"w x 30"h
Item: (AINSP-ATE)
Price: $200.00
---