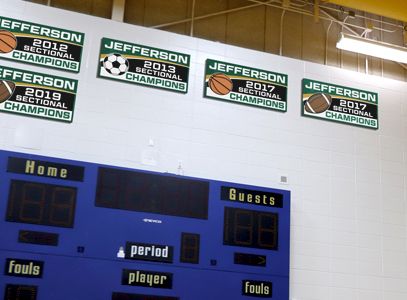 Celebrate your team's championship title! 
Many schools dedicate a single banner or board/sign to each championship won by a team. That way each team is honored for its special success.
Descon Single Title Boards are a great way to honor each championship team. These title signs are made of high-quality durable material that will last for years. We also design and make each sign customized for your school colors, logo, and text.  
Beyond the designs shown below, Descon can also create a unique size or shape of sign to fit the specific needs of your space. Contact Us today to discuss ideas.
---
Single Title Championship Board
Single Championship Board

Size: 46"w x 23"h
Item: (AC-ST-4623)
Price: $235.00
Choose 2 Colors, TEXT & LOGO

Design Example
---