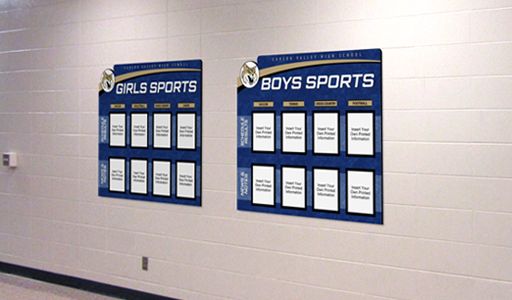 Let your teams show where they stand, upgrade your boring hallways to make them a sports display!  
We believe High School sports are fun to follow. But many times fans don't have a place to know how well the team is performing over the season. 
Descon sports standing boards and stats boards offer a variety of ways to display your teams current performance. Each type of product is made of high quality materials so it will last for years. These standing boards are also functional and easy to use. Best of all, we customize every part of the sign for your needs.
Contact us today to discuss options to upgrade your space.
---
Results & Standings Boards
These highly flexible displays allow you to display information about all the sports in your school. We have a sign package to display season results & notes. Then we have a package that displays Conference Standings for the sports currently in season.  
Each package includes eight Descon EZ-Display magnetic seal holders which hold your printed 8.5"x11" papers. Simply update your schedule with a result, print it out the new copy and quickly replace it to keep the display up to date.   
These results or standings boards also are flexible to be used for any season of sports. Each package comes with a set of title strips for each sport. When winter sports turn to spring sports, simply insert the title strips for Baseball, Softball, Track, Tennis, etc. and your display will be active for the new season. 
Results Board

Size: 54"w x 46"h
Comes as three pieces.
Item: (AResults-Pack)
Price: $750.00
Choose 2 Colors, TEXT & LOGO
Includes 8 EZ-Display magnetic seal holders
Includes 10 slide-in strips for all sports in one gender.

Standings Board

Size: 54"w x 48"h
Item: (AStand-Pack)
Price: $875.00
Choose 2 Colors, TEXT & LOGO
Includes 8 EZ-Display magnetic seal holders
Includes 25 Slide-in strips to display sports for each gender.

Product Details
---
Locker Room Posting Boards
Communicate clearly with your teams. Add color to impact empty spaces and customize with your school colors. 
Labels

Size: 15"w x 36"h
Item: (ALRPB-L)
Price: $150.00
CHOOSE 2 COLORS & TEXT

Basic

Size: 15"w x 30"h
Item: (ALRPB-B)
Price: $125.00
CHOOSE 2 COLORS & TEXT

Basic - Portrait

Size: 15"w x 36"h
Item: (ALRPB-P)
Price: $150.00
CHOOSE 2 COLORS & TEXT
---