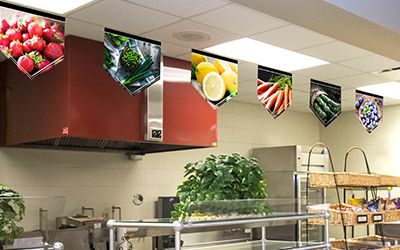 Banners are one of the most popular ways to improve your café atmosphere. Positive nutritional imagery hanging from above makes a strong visual impact on students.
All Descon banners are assembled by hand for a high-quality product. These Market Café Banners are unique in our catalog because they are only 18" wide. This allows you to offer more images within a small space.   
Price: $95.00   Size: 18"w x 18"h   Item: MC-BW18-(Insert Name)
---
Apples

Asparagus

Blueberries

Carrots

Greens

Lemons

Pears

Strawberries
---
Descon Banner Information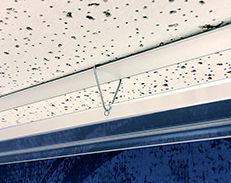 Ceiling Attachment
All Descon banners come with ceiling attachment hardware. This is our V-Clip which easily connects with any standard grid format drop ceiling which is common at many schools. Alternate hardware options are available if your building does not have drop ceilings. Just inform your sales consultant that you have unique ceilings and they will work with you to find a solution.    
For high ceilings, Descon also offers, at an additional cost, a chain attachment option that can lower the placement of your banners.
Banner Material
Descon Banner Material meets the NFPA 701 rating for fire resistance.
---