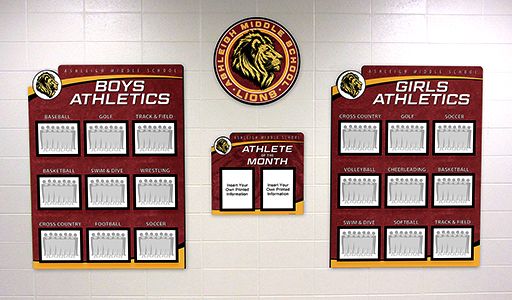 Team Spotlight Displays allow you to proudly show your sports teams in one place.
Team Spotlight Displays are a one-time investment to reuse for years, customized to your needs so no team goes unnoticed. These Team Spotlight Displays are designed to be functional and flexible, and are constructed of durable, long-lasting signboard. 

Each sport will have its own EZ-Display that can hold an 8.5x11 sheet of paper or an 8x10 team photo inside its magnetically-sealed frame. You can combine photo and paper information within your Team Spotlight Display.
Contact us today to see how we can help display your sports team photos.
---
Team Spotlight Displays
Display Layout Package

Size: 43"w x 60"h
Item: (ATeam-Display-PACK)
Price: $595.00 each
CHOOSE 2 COLORS, TEXT & LOGO

Display Example

Highlight a single sport with
1, 2, or 3 custom displays
 
 
 

Display Example

IDEAL to recognize scholar athletes
---
Team Spotlight Display Individual Add-On Items
Spotlight Header

Size: 43"w x 12"h
Item: ATeam-Header
Price: $125.00 each
CHOOSE 2 COLORS, TEXT & LOGO

3-Display Landscape

Size: 43"w x 15"h
Item: ATeam-Display-3L
Price: $190.00 each
CHOOSE 2 COLORS & TEXT

2-Display Landscape

Size: 43"w x 15"h
Item: ATeam-Display-2L
Price: $170.00 each
CHOOSE 2 COLORS & TEXT

3-Display Portrait

Size: 43"w x 18"h
Item: ATeam-Display-3P
Price: $200.00 each
CHOOSE 2 COLORS & TEXT
---