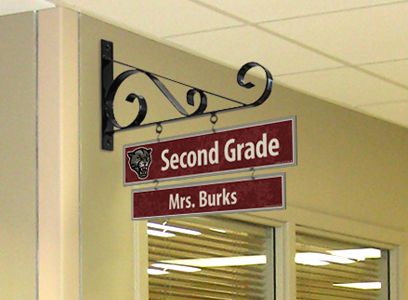 Descon school Classroom and Teacher Signs, some of our most popular products, are a fantastic way to add color and atmosphere to your hallways.
All school Classroom and Teacher Signs are made of durable materials and are double-sided for viewing in any direction. They hang from our Metal Scroll Bracket and can be stacked for the needs of a particular classroom situation. This structure is also designed for common changes in teacher assignments: If a teacher changes grades or leaves, simply re-locate the sign/order a replacement.

Grade Level Hallway Signs are an ideal way to identify room groups, and help create a sense of grade community. They can incorporate your school's name, character values, motto, etc. 
---
Room & Teacher Sign
Room & Teacher Sign Package

The easiest way to get started is with a package for each room.
Includes 3 pieces: Scroll Bracket, Room Sign, and Teacher Sign
Size: 20"w x 18"h
Item: RS-Pack
Price: $105.00
YOU CHOOSE TEXT, COLORS & LOGO
---
Individual Items
Metal Scroll Bracket

Size: 18"w x 12"h
Item: RSB-M
Price: $45.00 ea

School Room Sign

Size: 18"w x 4"h
Item: RSR
Price: $37.00 ea.
YOU CHOOSE TEXT, COLORS & LOGO (optional)
Specify CAPITALIZED or Sentence case text

Teacher Sign

Size: 16"w x 3"h
Item: RST
Price: $30.00 ea.
YOU CHOOSE TEXT & COLORS
Specify CAPITALIZED or Sentence case text
---
Grade Level Hallway Sign
Large and attractive way to identify room groups. Perfect for display in hallways to create a sense of grade community. Includes Character Values words that you can customize.
Size: 30"w x 30"h     Item: GL-Hall      Price: $295.00     YOU CHOOSE TEXT & COLORS
Values Design Example

School Name Design Example

School Name Design Example
---