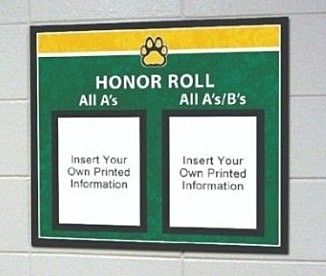 Display your Honor Roll in a high-quality manner with school spirit included. 
Having your Honor Roll posted in your hallways encourages more students to achieve. Honor Roll displays are one of our most popular products.
Each Honor Roll display comes with our EZ-Display magnetic seal 8.5 x 11 paper holder frame. You print your Honor Roll list and can easily change it every grading period. The high-quality, strong and durable sign construction will allow your investment to last for years.
---
Single Holder - Landscape

Item: RB-1L-EZ
Size: 24"w x 23"h -- Price: $150.00
YOU CHOOSE TEXT, MASCOT,
COLORS (BACKGROUND & TRIM)

Single Holder - Portrait

Item: RB-1P-EZ
Size: 24"w x 23"h -- Price: $150.00
YOU CHOOSE TEXT, MASCOT,
COLORS (BACKGROUND & TRIM)

Double Holder - Landscape

Item: RB-2L-EZ
Size: 31"w x 23"h -- Price: $190.00
YOU CHOOSE TEXT, MASCOT,
COLORS (BACKGROUND & TRIM)

Double Holder - Portrait

Item: RB-2P-EZ
Size: 26"w x 23"h -- Price: $190.00
YOU CHOOSE TEXT, MASCOT,
COLORS (BACKGROUND & TRIM)

Quad Holder - Landscape

Item: RB-4L-EZ
Size: 31"w x 36"h -- Price: $295.00
YOU CHOOSE TEXT, MASCOT,
COLORS (BACKGROUND & TRIM)

Quad Holder - Portrait

Item: RB-4P-EZ
Size: 26"w x 39"h -- Price: $295.00
YOU CHOOSE TEXT, MASCOT,
COLORS (BACKGROUND & TRIM)
---