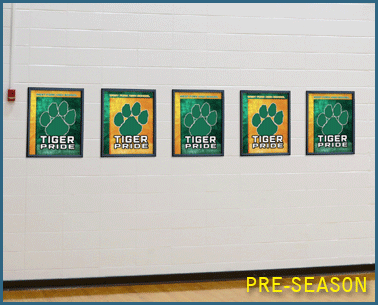 Celebrate your Seniors with durable, personalized boards!
These unique displays are a great way to recognize Seniors who have given 4 years to your program.
Descon Senior Standout Displays combine a permanent display that shows school spirit, with an in-season athlete specific sign which displays that year's Seniors. We also personalize the Senior signs by including the athlete's signature and a space for their photo.
See below for more information on how it works. These are amazing keepsakes for your Seniors! 
---
Permanent in School - Hang in Hallway
Size: 22"w x 28"h
Item: (AIB-Mascot-FF)
Price: $150.00

Mascot Image w/ Flip Frame

Annual for Athletes - Place in Flip Frame
Size: 22"w x 28"h
Item: (AIB-Board)
Price: $100.00

Individual Athlete Board

YOU CHOOSE TEXT, COLOR & LOGO

During Season, place Senior Standout Display
in Descon Flip Frame over Mascot Image.
Each Senior Standout Display comes
mounted with Descon EZ-Display
to hold athlete's 8"w x 10"h photo.

INCLUDES STUDENT'S Signature
You send it, we print it!

Individual Example
---
HERE'S HOW IT WORKS:
PRE-SEASON

1) One-time purchase of Flip Open Frame
and all-purpose Mascot Image

IN-SEASON

2) Durable Athlete Boards purchased
annually by boosters/athletes

POST-SEASON

3) Athletes keep their boards as
a tribute to their team contribution
---