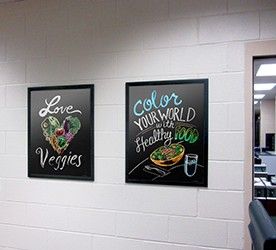 Change Art Images are sold individually and selected al-a-carte to personalize your space.
All images are made of high-quality sign material, NOT paper!  
The images are thin, washable, durable, and have a protective material which makes them last for years.
Images are held and displayed in Descon Flip Frames, more information at the bottom of this page.
Price: $90.00 ea. image   Size: 22"w x 28"h      Item: Chalk-(Image Name)
---
Crave Me

Balanced Diet

Breakfast

Calories

Eat Smart

Eat Right

Color Your World

Energy

Fuel Your Mind

Get Movin

Love Veggies

Smart Start
---
How Descon Change Art Works
Flip Frame

Our Change Art Images are intended to be displayed in Descon's durable aluminum Flip Frames. Flip open all four edges of the black frame outwards to place Change Art Images inside.

What makes our Flip Frames unique is that they can hold up to 3 Change Art Images.

This feature of our Flip Frames provides two benefits: First, your staff can easily and quickly change images to refresh the look of the café every week or month; Second, those extra Images are stored and protected in the Frames instead of taking up space in your kitchen.
                                         Price: $85.00 ea.      Size: 23.5"w x 29.5"h     Item: FA-FF
---