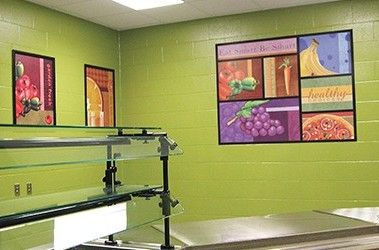 Descon Murals are large in size to cover a lot of space affordably. 
We offer two different styles of our food art murals. Our standard size provides good coverage for an open wall. Our "Slim Style" is great for short spaces above equipment.
Bring life and color into your serving lines with Descon Murals.
---
Style A

Item: DFA-4660-A
Size: 60"w x 46"h -- Price: $490.00

Style B

Item: DFA-4660-B
Size: 60"w x 46"h -- Price: $490.00

Style C

Item: DFA-4660-C
Size: 60"w x 46"h -- Price: $490.00

Style D

Item: DFA-4660-D
Size: 60"w x 46"h -- Price: $490.00
---
Slim Style A

Item: DFA-2394-A
Size: 95"w x 23" h -- Price: $425.00

Slim Style B

Item: DFA-2394-B
Size: 95"w x 23"h -- Price: $425.00
---