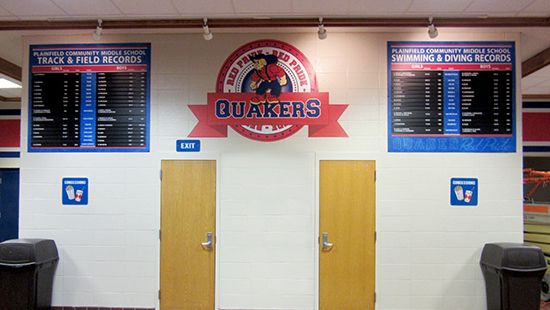 Upgrade your school record display!
Descon offers a high quality and great-looking solution for school records. Our record boards come in two pieces; a header that includes your logo and school colors plus a record display which has slide-in strips for each record. This is the easiest solution for changing records.
These record boards are made of our same high quality materials so they will last for years. Descon will custom make your record board and can have it display any information you would like. We can change the size, sport, arrangement, number of slots, etc. to fit your needs.   Contact Us today to see how we can help.
---
Records Boards Package 1
Records Board Package 1

Design Example
Custom-made to your school for any sport     
Package includes up to 20 slide-in strips at a discount.
Size: 46"w x 47"h - overall     Item: (AREC-Package-4635)     Price: $700.00     
CHOOSE 2 COLORS, TEXT & LOGO  Larger Options Available
 
---
Record Board Individual Add-On Items
Records Board Header

Size: 46"w x 12"h - Item: (AREC-Header)
Price: $130.00 each - CHOOSE 2 COLORS, TEXT & LOGO

Records Board Header Design Example

This is an example of the variations of
different styles using custom colors, text & logos.

Records Board Display

Size: 46"w x 35"h - Item: (AREC-Display)
Price: $325.00 each - CHOOSE 2 COLORS & TEXT
DOES NOT INCLUDE: Record Slide-In Strips, those must be purchased separately (below).

Records Board Design Example

This is an example of the variations of
different styles using custom colors, text & logos.

Slide-In Strips

Size: 16"w x 3"h Item: (AREC-Strip)
Price: $15.00 each CHOOSE TEXT
---