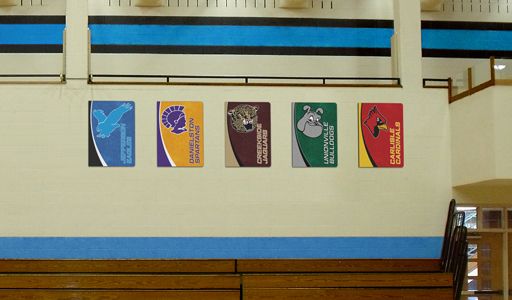 A staple for any gym or athletic facility!
These Conference Team Boards are uniquely designed so your school's display stands out. The logo and colors for each school in your conference will be clearly seen in your gym because we've designed these signs to be larger than more common conference signs.
Descon Conference Team Boards are made of rigid PVC and covered with a laminate protection to keep signs from fading. These signs can easily be wiped clean with water and will look great for years to come.
---
Conference Boards
Display Layout Package

Size: 32"w x 46"h
Item: Aconf-Tall
Price: $250.00 each
CHOOSE 2 COLORS, TEXT & LOGO

Design Example

Design Example
---
Conference Signs
These Conference signs provide an alternative layout for your gym.  These signs allow for mascots to be spotlighted via the bubble shape.   This layout also has an optional medallion to display your conference's logo.
Conference Sign

Size: 60"w x 18"h
Item: (Aconf-CircleLogo)
Price: $225.00
CHOOSE 2 COLORS, TEXT & LOGO

Design Example

Conference Medallion

Size: 30"w x 30"h
Item: (Aconf-CM-30)
Price: $240.00
CHOOSE 2 COLORS, TEXT & LOGO

Conference Sign Layout Example
---