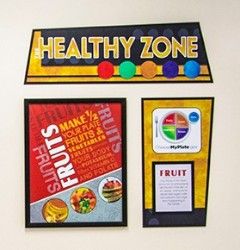 The Healthy Zone is a popular and effective tool to inform your students about nutrition.
The Descon Healthy Zone is a sign set with 3 components and this version is designed for Secondary level students.   Many customers use this for nutrition education in middle schools and high schools.
Perfect for placement on a wall with queue lines, the Healthy Zone provides versatility when it comes to displaying information. Nutrition information can be rotated daily or weekly, all in an effort to keep students interested. 
The artwork in this Healthy Zone was created to be engaging and informative for older students with nutrition fun facts helping the students learn more about their food to help them make healthy choices.
---
Health Zone - Secondary Version

The Healthy Zone package has two signs and one metal flip frame. The education comes from two sources.

First are five (one for each food group) change art images which are stored inside the flip frame. They are intended to be rotated weekly.

Second is a set of 25 fun facts which are printed on 8.5"x11" paper and displayed in our EZ-Display magnetic seal frame. These can be rotated weekly or daily with the intent of highlighting important menu items.

Item: HZ-Secondary
Size: 44"w x 47"h
Price: $850.00
YOU CHOOSE COLORS!
Includes: 5 Food Group Change Art Images
Fruits

Grains

Milk

Protein

Vegetables
Includes: 25 Nutrition FUN FACTS
Healthy Zone Secondary Fun Facts
Nutrition Education Changeable Inserts Printed Set comes with: (25) Food Component Paper Inserts
---