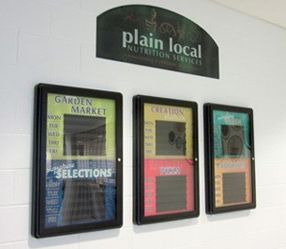 Menu Boards are a must-have for any food service operation. Not only do they communicate important information to students, but they enhance the professional appearance of your operation.
Descon menu boards come in a variety of formats and styles. We have solutions for large entrance walls or for small countertops. We offer hanging, standing, or wall-mounted solutions. We also provide a wet-erase option, or an option if you print your own daily menus. Our menu boards are categorized into 2 areas: Primary Styles & Secondary Styles. The 2 artwork styles were designed to engage that age range and unique audience.
Don't see what you are looking for? Contact Us and we would be happy to design a custom menu board for you.
---